[This ain't a geeky post!] Everyone heard of Linux? Good. You know its mascot? Its a penguin, right. Know what its called? Tux, it is.
Tux
has always been the mascot for Linux and nobody even thought of replacing it. The penguin was
Linus
' (the creator) choice and now he has again decided to change it
, temporarily. With the latest [kernel] version of Linux, Tuz the Tasmanian Devil was announced as the mascot for Linux. Though temporarily. Its for a cause. This switcheroo is to support the 'Save the Tasmanian Devil' campaign which aims to protect species from extinction.

Tux has now given way for Tuz. Note, that it is Tuz and not Taz as in the looney toons. Here's an image to help you understand the difference!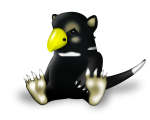 For me its sad that Tux won't be around for sometime. Besides, Tuz looks horrible! ech! I do hope things are back to normal soon.

Sigh-ing off,
LVS


PS: Will the 'Save the Tasmanian Devil' campaign use Tux for sometime? Because Linux is pretty endangered too :P



Image sources

: Wikimedia, The Register, Toons Town